41% off on Beautiful Freshwater Cultivated Pearl 2 Carats from Mahavir
Gems
Product Code: CULPEARL_PBM00-2ct
Availability: 4 Pcs left.
MRP: ₹551.00
Discount ₹226.00 41% off
Offer Price: ₹325.00
Ex Tax: ₹325.00
A beautiful 2 Carats+ / 2.25 Ratti+
/ 2.60 - 5.87 Chav undrilled
freshwater cultivated Natural Pearl.
Button Shaped,
Beautiful Cultivated unused / un trialed Pearl for Astrological purpose
from Mahavir Gems. You shall receive a pearl on order weighing between 2.00 -
3.00 Carats / 2.25 - 3.25 Ratti / 2.60 - 5.87 Chav*. A beautiful button shaped
cultivated pearl of slight Cream white color from Mahavir Gems best suitable
for all sorts of astrological use. Pearls are lucky for people born in the
month of June and hence it is called as June Birthstone. Take proper care of
your pearls and it will serve you for a life time to come. Natural Pearls are
very delicate gems and can be easily damaged by the surrounding conditions. It
is extremely important to care for pearl jewelry. With proper care the gems
will last for centuries.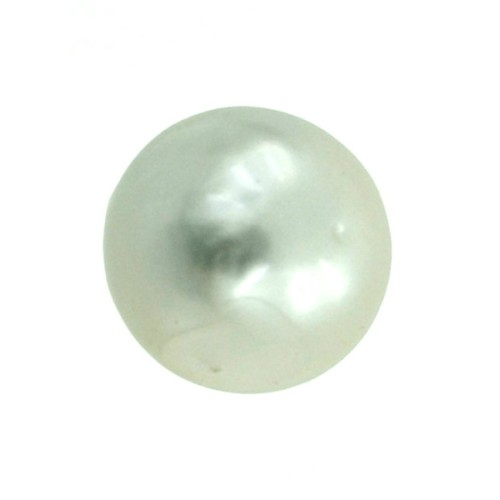 #moti #mukta
#chandra #moonstone #pale
#Button #Shaped #Natural #Pearl #Carats #Pearls
#natural #Pearls #natural
#keshi #cultured #south #seas
#Mahavir #Gems #Mumbai #Cultivated
#cultured #freshwater #sea #water
#2.00 #carat #Buy #Genuine #Certified
#Real #Pearls #Online #Basara #Pearls
#Natural #Pearls #Keshi #Pearls #Buy #Pearls #at #Wholesale #price #Buy #pearls #in #Mumbai #the #only #trusted #source #on #internet. #Substitute #Mahavirgems
#genuine #wholesale #India
#Make-In-India #certified
2 Carats / 2.25 Ratti / 2.60 - 5.87 Chav undrilled freshwater cultivated Natural Pearl : Mahavir Gems
: Beautiful Pearl for Astrological purpose from Mahavir Gems. You shall receive a pearl on order weighing between 2.00 - 3.00 Carats / 2.25 - 3.25 Ratti / 2.60 - 5.87 Chav*. A beautiful button shaped cultivated pearl of creamish white color from Mahavir Gem